PLEASE FOLLOW US ON FACEBOOK AND INSTAGRAM
https://web.facebook.com/KoiAtJungle
https://www.instagram.com/koiatjungle/
Koi at Jungle has moved to a new premises accross the road from our old shop in Sherwood.
NEW ADDRESS IS 829 KING CETSHWAYO HIGHWAY SHERWOOD
PHONE NUMBER 031 2098781
NEW INDIVIDUAL KOI PICTURES ADDED TO THE KOI @ JUNGLE PRODUCT CATALOGUE 31 JANUARY 2018 !!!!!
NOVEMBER 2017 JAPANESE KOI HARVEST KOI ARRIVING SOON !!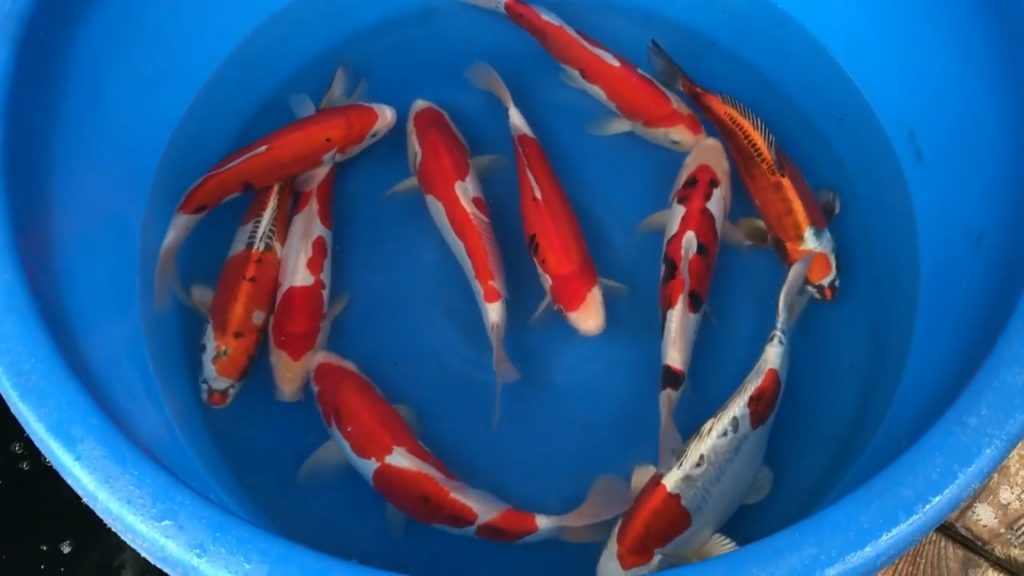 New Tosai availible from the 2017 tosai harvest !!
New stock from Japan available and out of quarantine January 2017
KZN KOI SHOW COMING UP SOON!! THE SHOW IS AT A NEW VENUE THIS YEAR!
SHONGWENI CLUB CNR CLIFFDALE AND KASSIER ROAD. OUTERWEST DURBAN!!!
NEW JAPANESE STOCK ARIVING SOON !!! November 2015 !!
We are busy buying our new stock from Japan. They will be landing some time this month. Below are some of the fish that will be arriving with the shipment.
LATEST NEWS!!
Unfortunately the Jungle Garden Nursery has been closed. We are still trading from this premises and will be for many years to come. Hopefully it wont be long before the Nursery is reopened under new owners and it can be brought back to its former glory.
People can still enter from the main entrance and the Security guards will direct you up the ramp to our shop.
Come and have a look at our new range of koi as well as the extensive new range of Hikari koi food now available from us.
Trading hours are as usual 7 days a week 8.30 am to 4 pm
Hikari koi food now available from KOI AT JUNGLE !!!
Koi @ Jungle will be at the Gauteng koi show in May. Come and visit us to see the new Japanese koi available.

Japanese buying trip November 2014
I leave for Japan on the 2 of November to hand select newly harvested koi from the mud ponds around Japan.
I start up in niigata and work my way down to the south of Japan covering all the top breeders. If there is anything special you are after then you can contact me on 0741580279 and I will see what I can find for you. I will try to keep the site updated with newly purchase koi while I am over there.
Warren Beckx
NEW STOCK ARRIVED SAFELY AND IS ALMOST OUT OF QUARANTINE!!
Have a look at our product catalogue to see some of the fish that are available.

2014 BUYING TRIP TO JAPAN
I will be off on another koi buying trip to Japan on the 24th of February , This time of year is great for buying tosai but I will also be looking for bigger fish.
Keep checking the site for pictures of newly purchased Japanese koi !!
NEW OGATA KOI 45-55CM
New Nisai koi just arrived from Ogata koi farm in Japan. Have a look at our product catalogue for what is available. There are pictures as well a short video clip of each fish.
Koi at jungle now sells Hydro Seal
GAUTENG KOI SHOW THIS WEEKEND
We will be at the show this weekend with a wide range of our new Japanese stock for sale!!
JAPANESE BUYING TRIP APRIL 2013
Japanese buying trip April 2013 We have just been on a very successful koi buying trip to Japan. The trip started off in the south of Japan at Ogata koi farm. Ogata koi farm breeds a huge variety of koi. Its almost a one stop shop for koi. I spent a day and a half hand selecting tosai , jumbo tosai and nisai koi of many varieties.
Next it was another flight to Niigata which is my favourite area in Japan. Not only does it have the largest collection of famous breeders in Japan but its also the most scenic as well.This time of year it is spring in Japan but there is still a lot of snow covering the mountains.
We visited many breeders each day and bought some amazing koi ranging in size from 15cm all the way up to 70cm.Some of the breeders we visited included Aoki torazo, Dainichi, Marudo, Yamajyu, Kanno and  shinoda just to name a few.
One week after I returned from Japan we received the shipments of koi. All the koi are happily swimming in our quarantine facility and are almost ready to be released.
Picture of all 40 boxes safely unpacked !!
Have a look at our product catalogue to see what koi are available from this shipment